R&D, QC Laboratory Equipments > Chilled Water Circulator Chiller 25Ltr
List of R & D, QC Laboratory Equipments
Autoclaves,Water Distillation Equipments, Water Baths/ Stirrer Baths / Oil Baths, Rotary Vacuum Evaporators and Pumps, Child Water Circulators, Stainless Steel Equipments, Clean Bench / Laminar Air Flow - Bio Hazard Type, Hot Plate & Magnetic Stirrers, Differential Blood Cell Counter Digital, GMP Model Digital Colony Counters, Powder Coated Slide Cabinet, Transparent Anaerobic Jar Polycarbonate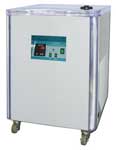 Chilled Water Circulator Chiller 25Ltr
Chilled Water Circulator Chiller 25Ltr Advantages

Environment friendly CFC free hermetically sealed rotary compressor.
Sleek & compact design with easy maneuverability.

Chilled Water Circulator Applications

Ideally suitable for chilling and condensing operations.
Ideal companion for Blister Pack Machines, 20 lit
Rotary Vacuum Evaporators, and for general production requirements of chilling in closed loop systems.


Model
Description
Cooling Capacity
App. Shipping Details
Net / Gr. / Volume
#8502.025.000
Chilled Water Circulator - 25L
2500 W at 15°C
81 kg / 110 kg / 0.58 m3

Chilled Water Circulator Constructions

Full stainless steel construction.
Sturdy angular welded frame.
Panels powder coated.
Four heavy duty castors for easy movement.
External size (L/W/D): 65 x 62 x 84 cm

Standard Features for Chilled Water Circulator
Suitable for closed loop systems.
In-built Digital Temperature Controller cum Indicator.
Temperature range upto +5ºC (at ambient 25ºC).
Reservoir capacity of approximately 25 lit.
Heavy duty water circulation pump of 180 W with 10 LPM flow rate at 15 met head.
With low liquid level indication & automatic cut-off.